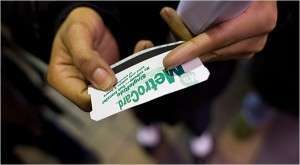 As many know, Paris, like many European destinations favored by travelers are very well known for pickpocket.  It is also basic traveler knowledge that pickpockets love to target travelers at locations where tourist tend to be found in crowds – especially locations where it can be a "natural occurrence" to be bumped into.  One of the most likely locations can be found at any Metro station in the world.  The following is a pickpocket scam that is widely used against tourists and one that should be know by all who visit.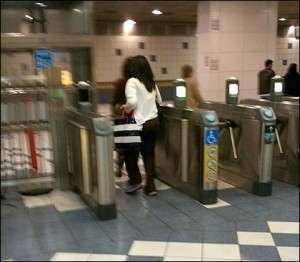 This Metro pickpocket scam starts off at the metro station, just before the turnstiles – the location where you insert your ticket to go to the platform.  The pickpockets hang out in the area and watch for a traveler or tourist to approach the locations and take ticket out of their wallet, then put their wallet back into their jacket, pants, or purse pocket.
When the pickpockets see this (they especially look for tired for 1st time travelers), they move in.  This metro scam is usually done by two pickpockets who work as a team.  Just before you reach the ticket machine where you enter your ticket, the first pickpocket sneaks in front of you and inserts an invalid ticket into the turnstile.
Obviously the turnstile doesn't let him or her through and the thief accomplice makes a "show" of trying to force his way through the turnstile.  Meanwhile the tourist patiently waits behind this commotion.  The pickpocket's partner (whom you cannot tell are working together) walks up behind you, mutters something in French and starts pushing you into the first pickpocket who can't get into the turnstile due to the fake ticket.  The pushing from behind is a fetal attempt to indicate that three people pushing against the turnstile might make it work.
The confused tourist gets caught up in a sandwich between the pickpockets.  It almost looks sort of like a mini-rugby scrimmage to someone watching from afar.  The tourist is distracted by the first pickpocket still continuing to struggle in front of you, while the pickpocket's partner conveniently takes your wallet.  When your wallet is history, the first pickpocket then inserts a valid ticket into the turnstile, suddenly gets through.  That's when the second pickpocket who was behind you and stole your wallet turns around and walks away with my wallet.    When you discover this scam, both pickpockets are gone in different directions.
So moral of the story is pickpockets can work anywhere at anytime, but especailly like the metro.  Be carefull where you keep your valuables.  Consider one of the many unique travel money belts, security purses, and other unique travel security products that can help protect your valuables from metro pickpockets.  Here are a few you may want to consider:

PacSafe CoverSafe 150 Secret Travel Wallet
The CoverSafe 150 Secret Travel Wallet is worn under clothing and anchored to your belt. Great when you want to have your passport and cash concealed yet secured to your body and conveniently accessible. More detail…

PortaPocket Portable Pocket System

PortaPocket is a multi-functional and detachable lightweight carrying case system that allows the female traveler to carry money, credit cards, or other small items without carrying a purse. More detail…


Leather Security Money Belt
Hide your cash in a unique, smart looking money belt that looks good on shorts or dress pants. Zippered compartment located on inside of belt. Full grain leather. BLACK or BROWN More detail..

PouchSafe 100, Neck Wallet

Keep valuables from view. Lightweight and soft neck wallet has an adjustable, wire reinforced strap that cannot be cut by slash n run thieves. Tucks inside a shirt. More detail…


Rewind Duo Lossless Wallet by Civilian Lab

Slash resistant steel cable unspools from this security wallet. Cable recoils when you're done. Wallet cable attaches to your belt/bag. Works with pockets, backpacks, and purses. Wallet cable clip is detachable. More detail…


Under Clothing Waist Wallet

Alternative to a visible waist pack. This flat waist wallet tucks under your clothes & out of sight. Slashproof strap protects from being cut/pulled off from behind. More detail…


WalletSafe 100 Tri-fold Wallet

Keep cash and cards close. A tri-fold anti-theft wallet. Zippered cash compartment. Detachable metal chain with belt loop connector anchors to belt or bag.
More detail…


WalletSafe Bi-Fold Zip Around Travel Wallet

The WalletSafe Bifold Travel Wallet is a slim travel wallet with slashproof metal chain keeps cash & cards anchored to you. Zip-around security feature.
More detail…


Hidden Travel Loop Wallet
Slide your belt through the loop on this wallet and tuck inside waistband. Securely hides passports, currency and credit cards from view. Includes a black and brown loop so you can wear on different color belts. More detail…


Non-Slip Security Travel Wallet

Security travel wallet features non-slip rubber fabric on one side causes friction & reduces the chances of it slipping out of your pocket or by a thief's hand. Zip closure keeps cards and bills secure. LEATHER or MICROFIBER. More detail…


Conceal Wear Money Pouch

Attach this money pouch to your clothing. Alternative to wearing a belt, or clip wallet or waist wallet style. Easily attaches to shirt tails, t-shirt, or inside of pants pocket. Secure and hidden. More detail…


Clip Safe Travel Wallet

Clip Safe Security Travel Wallet. Worn clipped & tucked inside your waistband. Ideal travel safety wallet. Also clips to interior pockets of purses for quick access. More detail…


Ladies Security Toursafe Travel Wallet

The TourSafe Security Wallet is pick-pocket proof. Features a security chain that attaches inside your purse preventing theft by pickpockets. Wrap around zipper. BLACK or TAUPE More detail…


Design GO Shoulder Wallet

Holster-style over the shoulder security wallet with 3 secure zipper compartments to keep your valuables safe while traveling. Lightweight and discreet design makes you forget you're even wearing it. More detail…


Lewis and Clark Deluxe Travel Waist Stash Money Belt
The Lewis and Clark Deluxe Travel Waist Stash features two zippered compartments, inner pockets and adjustable waist strap that accommodates waist sizes up to 50″ inches. More detail…

Deluxe Hidden Leg Wallet

Deluxe Leg Safe made of Lycra slides on & fits around your leg like a comfortable sock. Won't slide down. 2 zip pockets hold valuables. Best leg safe. More detail…


TSA Airport Friendly Money Belt

TSA Airport friendly belt! Wear it through the metal detector. Looks like a simple, casual web belt, no one will ever know that the reverse side has a built-in hidden zippered compartment. More detail…


Arm Wallet -Wrist Wallet

Keep your valuables safe and secure with the Enroute Arm Wallet. A comfortable lower arm wallet or wrist wallet carrying keys, MP3′s, and cell phones. Great for runners, joggers and walkers. More detail…


Deluxe Hidden Leg Wallet
Deluxe Leg Safe made of Lycra slides on & fits around your leg like a comfortable sock. Won't slide down. 2 zip pockets hold valuables. Best leg safe. More detail…


Leg Safe Hidden Travel Wallet
Security Leg Wallet. Wearing pants? Hide valuables with the leg safe wallet. The perfect secret wallet. It can also be a back-up one used in addition to a regular wallet. More detail…

Leg Safe Hidden Travel Wallet
Security Leg Wallet. Wearing pants? Hide valuables with the leg safe wallet. The perfect secret wallet. It can also be a back-up one used in addition to a regular wallet. More detail…

Design GO Shoulder Wallet

Holster-style over the shoulder security wallet with 3 secure zipper compartments to keep your valuables safe while traveling. Lightweight and discreet design makes you forget you're even wearing it. More detail…


Design Go Women's Body Pouch

The Design Go Body Pouch was inspired by lingerie that came with small pockets. No one will know you are keeping your valuables close with this discreet security pouch. More detail…


WristSafe Wrist Wallet

The WristSafe wrist wallet has anti-theft features and conveniently & securely carries your mobile phone, cash and keys on either your wrist, ankle or upper arm. More detail…


SlingSafe 50 Phone Purse
The lightweight SlingSafe 50 is an organized anti-theft sling purse for carrying only the bare essentials, phone, ID, money. TAUPE, BLACK, SAGE, DEEP CHOCOLATE. More detail…

Enroute Ankle Wallet/Upper Arm Wallet
Keep your valuables safe and secure with the Enroute Leg Wallet. This is a comfortable leg safe that also doubles as an arm wallet for joggers and walkers. More detail…
Related Posts